1991 Monterey Laguna Seca Ferrari Club Event: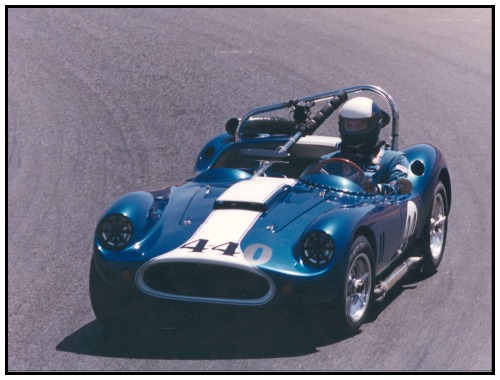 The Ferrari Club event at Laguna Seca is a day when the Ferrari Club rents the track and members can drive they machines on a great race track. I met Bill Devin at the track and Bill helped pit that day. When my turn came to drive, I was in Group 4, the fastest cars. This group included Ferrari's fastest cars, like the F-40s and 288 GTOs. I started last. On about the fourth lap, I caught the leaders and entered ducked inside turn 11 at the hairpin. The four fastest Ferraris in the group were just ahead of me at the outside and proper line for that turn. I started to accelerate up the hill. Before the top of the bridge at start-finish, all four Ferraris were tiny dots in the mirror. I completed the remainder of the session. When I came in, Bill had tears in his eyes and said, "Barry Watkins, this is the happiest day in my life. I been waiting for forty years to beat Ferrari and you just devastated and embarrassed the best cars they ever made."

My little blue Devin could not corner nor brake near as fast as any of the Ferraris, but there was no comparison in the acceleration. The Devin's 425 HP and 2,000 pounds of weight make one very confident that they would race for pink slips with practically any street legal production car.