The Devin SS ( SR 4-8 ):

In about 1988, I read a book by Rich Taylor about a wonderful sports car made in the late 1950s by an entrepreneur named Bill Devin. These cars were light in weight and were powered by a small block Chevy Corvette motor. A Road and Track Magazine road test showed 0-60 times in 5.7 seconds, with only a low powered Corvette motor. That matched my 30 year newer Ferrari Testarossa acceleration times. That summer, I was watching the Monterey Historic Races at Laguna Seca Raceway and saw a 1958 Scarab, driven by Don Orosco, lap the entire field, including Phil Hill in a Ferrari Testa Rossa, in a 10 lap race. From that moment on, I wanted to race in the 1959 and under, "run what you brung, over two litre, Sports Race Car class" at Stephen Earle's Monterey Historics.

According to my research, the Devin SS appeared to be the best vintage race car I might be able to afford, so I set out to see if Bill Devin was still alive. I discovered that he lived about 60 miles east of me, so I arranged to meet him in 1989. Over a period of time, Bill and I got to know each other very well. In June of 1989, he agreed to sell me what I consider to be the most significant of all Devin cars, the one he owned for 30 years and that appeared in all the magazine articles. I purchased the car and undertook a full restoration and race preparation of the car. The person entrusted to the restoration and race prep duty was Bobbie Boxx, a former Dan Gurney fabricator and race team member. Bobby was very talented and did an excellent job preparing the car for the race track.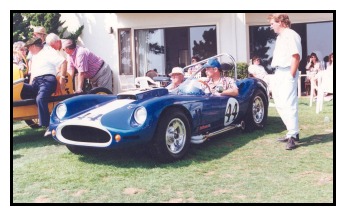 In early 1990, I applied to Steve Earle to race in the 1990 Monterey Historics. The car was accepted. In August of 1990, the car was almost complete and we tested it for the first time at Willow Springs Raceway. It was about 115 degrees that day but the car worked pretty well. The Devin was a rocket ship. You can imagine what it felt like with 425 HP and about 2,000 pounds of weight. Acceleration was blinding with 0-60 times under four seconds. The rear suspension design produced excellent traction exiting corners. The major changes we need to make were with the front roll bar. We had to upgrade it substantially to control the significant understeer.



1990 Monterey Historics: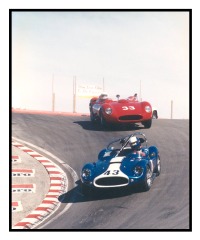 We loaded up the Devin and headed for Monterey a few days later, with very little time in the seat to learn about our new missile. The feeling of taking laps at Monterey's Lagune Seca Raceway is awe-inspiring, to say the least. I was at least familiar with most of the track, since I had taken a driving school course a few years earlier and participated in a few Ferrari Club events at the track. The car was not fully sorted and the brakes overheated rapidly from trying to stop the Devin at such high speeds. Acceleration was awesome and there were some other very fast cars along with some very much slower cars. There is a great disparity of cars in any vintage race event because of the difference in performance with thousands of vintage and historic race cars segregated into only 10 to 20 race groups. The real spirit is just being there. The cars are the heroes.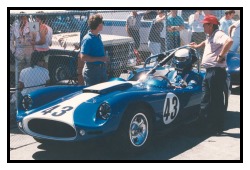 On Saturday race day, while I was sitting in the car on the starting grid prior to our parade lap, Lorin Tryon, President of the Pebble Beach Concours D'Ellegance, started talking to me. He said that my Devin was the most beautiful car at the race and asked if I could bring it to the Concours the next day. I naturally accepted the invitation and took the entry package from him. What an honor that was, however, not long lived.


For the 1959 and under Sports Racer Class, I had qualified fourth. Don Orosco and his Scarab were on the pole and Mike Blackie and his Lister Corvette were next to him. The race started and in my inexperience, I lost a position and exited turn one in fifth place. A couple of laps later, I was still in fifth but became keenly aware that there was no reason that I couldn't push it much more and move up in the pack. I started passing cars. A Maserari 450 S was my first pass just before the Corkscrew. In a few laps, I was just behind Mike Blackie's second place, very swift Lister. Blackie and I were going back and forth really dicing for position. My brakes were very hot and weren't stopping at all. You could see the crowd was really into this race. I had the horsepower-Blackie had the brakes. Steve Earle had told me that this group of cars and the Can Am cars were the two crowd favorites. On lap nine, I briefly passed Blackie under the Nissan Bridge just past the start-finish. What a thrill that was. For a few seconds, I was in second place. However, at turn one I had to back off early with the hot brakes. Blackie just slipped by on the outside. We were neck and neck and I felt if I could just stay on his tail in third gear, I could out accelerate him at the finish line to get second. It was not to be that day, however. On turn four of lap nine, probably the easiest turn on the whole track, I found some oil and the rear end came around and I ended my day spinning into the concrete barriers at about 60 mph. I wasn't hurt, but I sure was disappointed. The car received about $30,000 of damage and I would not be allowed to return to Laguna Seca for two years. In addition, a lifetime goal for many people of attending the Concours D'Ellegance would have to be postponed.
1990 Palm Springs Road Races: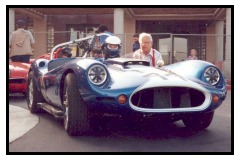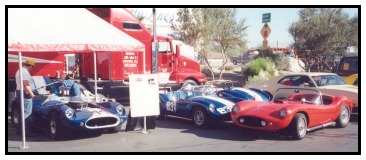 The Devin was repaired just in time for the November Palm Springs event that was sponsored by Rick Cole which honored Carroll Shelby. We were styling at that event. Bill invited several local Devin owners with their cars to the event. We rented the European Auto Restoration ½ million dollar big rig for $500 for the weekend and our pit area looked great.

Carroll Shelby had just had open-heart by-pass surgery. At the event was my 1959 Scaglietti Corvette which was his first attempt at what later became the Cobra project. Carroll, saw the car and we talked about it and its history. Bill Devin's 75th birthday was over that weekend and he attended the event with us along with as many Devins as could be assembled. Famous Devin owner-driver, Alex Quattlebaum flew in from South Carolina to drive Art Evan's Devin SS.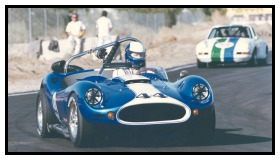 This was my first experience racing much newer cars. These included cars Lotuses, Jags and Porsches as much as 10 to 15 years newer. Bill couldn't wait for Quattlebaum and me to race each other. There was only one problem. Art Evans' Devin was in very poor condition and had no business being on a race track in that condition. Fortunately for Alex, the car broke before he had to put his life on the line in that very unsafe car. Bill was very embarrassed. My Devin was the fastest car in the group. I made one mistake and overshot the longest straight away and lost several positions before re-entering the track. The race results stated that my Devin made the fastest lap time of the group.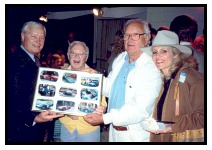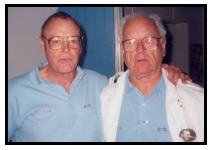 That weekend, Art Evans hosted a 75th birthday party for Bill at his Palm Springs home. We gave Bill a plaque with pictures of his cars and current drivers. The pretty woman, Linda, later became my wife and mother of two of my sons, Tyler and Travis.