1958 Devin SS Kit: SR 1-2: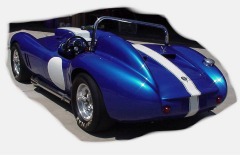 Bill Devin and I had become pretty good racing buddies and enjoyed doing the events together. I think Bill appreciated that I had spend the time money and put a nice looking competitive race car on the race track. It was absolutely obvious that Bill was very disappointed that his cars never sold very well in the early days and that he lost most of his money trying to put them into production. This was a feeling I identified with a few years later with the BZ 2001 I tried to put into production.

Bill also attended several Devin races which were driven by Alex Quattlebaum and Ed Henning - both very capable drivers with nice Devins. I went with Bill to Mid Ohio in the summer of 1989 to watch Alex Quattlebaum race. I was very impressed.

Bill also had a very strong underlying love for and connection with Italy and the Italians. In the early 1950s, Bill partnered with Ernie McAfee in selling imported Siatas, Ferraris and Erminis. An Ermini was a 1,100 cc, Fiat powered aluminum race car with a tubular chassis. The bodies were made by Scaglietti and later became the basis for the Devin bodies.

In 1952, Bill Devin and Luigi Chinetti became good friends. Bill attended the 1952 Le Mans race and after the race, he ordered a 1953 Ferrari to compete in the 1953 Le Mans race, however, the car could not be completed in time for the race. Bill and Luigi became very close friends, even up to Luigi's death. Bill described Luigi as very modest and said that Luigi never told him about his Le Mans victories. Bill found out from Luigi's wife. This close relationship led to a short term "distributorship" by Bill Devin of Ferrari cars on the west coast in the early 1950s.

While in Italy, Bill described to Mr. Scaglietti how he would like to have a Formula car modified into a two seater. He later saw his ideas transformed in 1954 into race cars which were raced by Phil Hill at Pebble Beach.

Jim Orr raced an overhead cam Panhard and became the "H" Modified SCCA National Champion in 1956 in the hands of Jim Orr. Jim had traded his Ermini to Bill for the Panhard and went on to become very successful.

Bill was enamored with the Ermini body and modified the chassis and made it much stronger to accommodate the Chevrolet motor. Over the next couple of years, other modifications were made. After a crash, the aluminum body was replaced with a fiberglass body. This was the first Ermini - Devin. This little Ermini- Devin with the Scaglietti body was the car that started a long series of Devin cars. The body was the same type sold in many sizes and configurations to hundreds of customers. There were about 27 different sizes of Devin fiberglass bodies. In a short period of time, Bill became, "Mr. Fiberglass".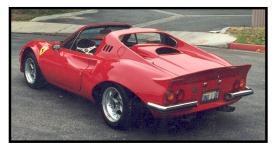 On my birthday in September of 1989, I drove out to have lunch with Bill in my "One-Off" Ferrari Dino that I had built. Bill loved that car. It was very fast and very curvaceous. In April-May of that year, I had attended and drove a support vehicle at the Mille Miglia in Italy. I told Bill about my Mille Miglia adventure, showed him many pictures of the event and he became very excited. Bill had also considered upgrading his Devins or making a coupe for an offering to Devin fans as an alternative to the Ford powered Cobra. Several people had tried over the years to buy the Devin name rights but nothing ever was concluded until close to his death.

Bill loved Italy, the Italians, and wanted to drive in the Mille Miglia with me in a Devin. The problem was, my first Devin was too new and was not eligible for the event. We had heard that Don Orosco had previously been invited and attended the event in his 1958 Scarab. Bill had two prototype SS Kits at the time. These were the cruder predecessors to the Devin SSs. One chassis was banged up real bad, so I picked the better one. The Kit had had never been assembled but could be completed with components from the later cars and his inventory of parts. I bought the project on that day

I thought that this project could have four options:
1. A possible entry for the Mille Miglia.
2. A vintage racer.
3. A prototype to joint venture with Bill Devin for a new Devin SS Kit Car offering to the public.
4. A very fun and unique street cruiser.

In November of 1989, we wrote a letter to the Organizing Committee of the Mille Miglia requesting that we be allowed to participate in the following year's Mille Miglia. Shortly thereafter, the requested an entry fee check which I sent but we were not accepted in the Devin. However, I did receive approval to run the event with another car I owned, an OSCA that was a factory team car that had won its class in 1957 Mille Miglia. Other previous political commitments kept me from participating in the event with that car with Bill Devin.

The Devin SS Kits were the predecessors to the Devin SS cars. There was only a few of these cars made and they were rough. SR 1-2 was a real basket case and would take a lot of work. I purchased a chassis and later style body along with many of the drive train components. Being a Kit would allow me some flexibility to modify some features I didn't like about the Devin SSs. Most of those involved lack of basic engineering safety. For starters, the steering had massive amounts of bump steer and was very dangerous at high speed. We corrected that with a proper steering rack and geometry. The front suspension was upgraded to the SS style equal length parallel A-arms. Koni shocks were also installed. The frame had absolutely no crash protection for the driver. We added side bar crash protection in the doors and front engine bay. The de-Dion rear end was used with a Devin alloy center section; however, a much stronger mounting / pivot system was incorporated. Most of all, I thought the styling could be improved. The fenders were widened; air exhaust vents were added behind the rear wheels, a head fairing for the driver side and a larger hood scoop. Most onlookers prefer my modifications. For this vehicle, I preferred to have a safe-functional car rather than a purist car.

A rather extensive construction of this car began immediately. Bobby Boxx started the project but died of cancer before it was completed. The body was mounted in such a way that it could be removed from the chassis so that we could work on it easier in the off-season. We added the optional Devin driver's side head fairing, flared the fenders to accommodate wider tires and added a sizable hood scoop to allow room for the Weber 48 IDA carburetors.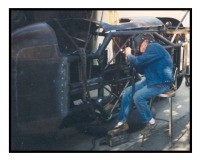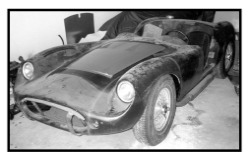 Left: Bobbie Boxx welding under seat structural members for crash protection.

Right: Bobbie Boxx work status in 1990.