The prototype included a full carbon fibre body. Various manufactures participated in the project as sponsors and solved many engineering problems throughout the car. Tilton Industries build a very light weight carbon clutch and flywheel package that greatly increased acceleration. Penski Shocks designed an excellent set of shocks. The Alcon brake system was phenomenal and Goodyear was very supportive with their high performance tires. The BZ 2001 featured perhaps the most comfortable auto seats ever made which were modified from an Obus Forme seat cushion that Luis discovered at a SEMA Show in Las Vegas.

Our design studio was opened in 1994 by Luis and me in order to complete the prototype and make tooling to duplicate the project. My agreement with Bizzarrini allowed me to use the name, "Designo di Bizzarrini", therefore, we incorporated under the name, " World Super Cars, Designo di Bizzarrini".

Luis and I spent a great deal of time investigating how we could put the car into production. This is certainly a harsh world and you have no idea how hard it is to put a car into production until you just start looking at the certification, financing and marketing problems. Here is an object that sits on a table seven feet wide by sixteen feet long and has ten times the complications of any real estate projects I have ever done. If you don't believe how hard it is, just count how many small automotive manufacturers have stayed in business in the last century. This fact alone basically makes the arena to secure investor money impossible. Funding was never ever easy for the project. Over three years, my inventory of 28 collector cars was sold to fund the project. In other words, I traded many cars to fund one dream. I feel that no car ever built had a styling advantage over the BZ 2001. Furthermore, with that advantage and the fact that we were in a severe recession in California, it was impossible to sell cars or raise money to build them at that time.

The answer to the question whether I would ever do this again is that I would build the prototype, but I would not waste the energy and resources to try to put it into production unless I had a partner that would fund it. However, I do believe that it is possible to build race cars with the right product.

During 1993, an insider working on the acquisition of Lamborghini from Chrysler Corporation, had introduced us to the Indonesians that eventually bought Lamborghini. They appeared to be very interested in buying the design rights to the BZ 2001 to make a V-10 concept to compete with Ferrari V-8s. There appeared to be a reason to put the elements together of the Lamborghini V-12 motor creator ( Bizzarrini ) and a car of the day with his design input. The Indonesians bought Lamborghini and when the Lotus people were brought in to run Lamborghini, the BZ 2001 / Lambohghini concept died. I believe the reason was completely do to the, "ain't invented here," mentality.

In 1993, Pirelli approached us to be their sponsor display at the Concours Italiana at the Quail Lodge in Carmel, California. There were hundreds of cars on display, including a great lineup from very significant Italian designers from the 1960s. The BZ 2001 received the top award with five out of five judges voting for it, however, the trophy had to be given to another entrant because we were the sponsor's car and were not eligible. Luis and I were heartbroken.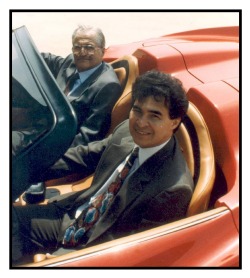 In 1994, Bizzarrini returned to California and spent five weeks with us in order to design and build the Bizzarrini Chassis for the BZ 2001 proprietary car with our own chassis, body design and V-8 motor. This was a hectic period in that Bizzarrini left his medication at home and his mood swings were very challenging to endure. Quite often, he demanded that we take him to the airport so he could go home. One day, a very talented English only speaking fabricator misunderstood Bizzarrini's Italian only instructions regarding the installation of the motor mount for our 600 HP V-8 motor. We spent almost three hours listening to Bizzarrini complain and I came up with a proposal for Ing. to consider. "We can either take you to the airport and you can go home, or, we will relocate the motor mount to the proper position and hear no more complaints for the duration of your visit."



Bizzarrini decided to stay and he finished his chassis. Luis spoke Italian and he and Ing. became very close friends. I believe that they still correspond to this day.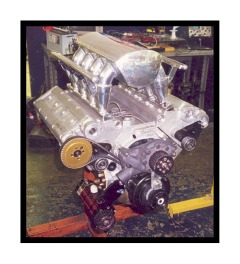 Our V-8 motor was on the dyno at the time Bizzarrini visited us in 1994. There was a short in the coils and the dyno operator was having trouble with the electronic system and getting all eight cylinders to fire. Bizzarrini was sitting on a stool about 25 feet from the spitting and sputtering motor. He jumped out of his chair, licked his fingers and touched three header tubes of the motor. Those happened to be the same three cylinders that were not firing. We were all very impressed with how he did that.