In 1969, I began riding trail bikes with the purchase of a Yamaha 250 DT 1. Soon thereafter, I switched to an OSSA and then a Maico 250. The Maico handled well and I loved it.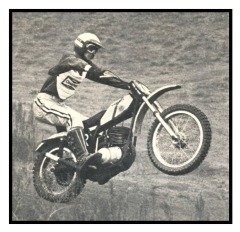 After a couple of years, I met Don Jones and his two sons, Gary and Dewayne. Gary was a US National 250 Motorcross Champion, riding for Yamaha. Don and I became very close friends. He was one of the smartest and most creative men that I have ever met. He was Yamaha's Motorcross Race Team Manager and had great flexibility in testing new trick stuff. One day while at the Jones Motorcross Racing Shop, I saw on of the Factory 250 YZs completely disassembled. They were the only bike I knew of that weighed less than 200 pounds. That was about 60 pounds lighter than my 250 DT 1 and this intrigued me greatly.

I was allowed to weigh individual components and came to the conclusion, that with a great amount of detail, I might also be able to build a bike for myself under 200 pounds. Then I thought about what a great idea it would be if the average guy on the block, like me, could build a bike similar to the factory racing bikes. I called Bob Braverman, Editor of Cycle Guide Magazine, and told him about the sub-200 pound- 250 cc motocross bike possibility. He said if I could build such a bike under 200 pounds, it would be a first and he would put it one the cover of Cycle Guide if I would write an in-depth article.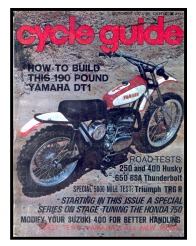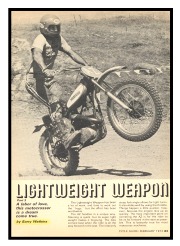 Next, I contacted Terry Tiernan, Vice President of Yamaha America in Buena Park, California, one mile from where I worked. He like the idea of Yamaha getting a magazine cover and put a lot of energy behind my effort to help. The rest is history. Bob Braverman weighed the finished product with a fish scale in their warehouse and said it weighted 193 pounds. I had my first cover article. I was very thrilled. That issue of Cycle World with my "Lightweight Weapon" on the cover sold far more copies of Cycle Guide than any other issue for years to come.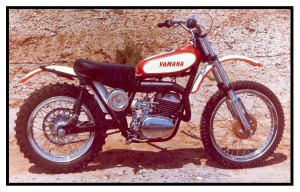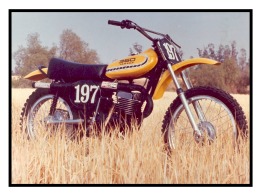 In 1972, I thought it would be more challenging to build a sub-200 pound 360 cc motocross bike. Cycle World Magazine published my 10 page photo-journalistic effort of the next project. The people at Cycle World were first class and I loved working with Joe Parkhurst. The formula I used was to design a project with both existing and prototype products from various quality manufacturers and suppliers and this in turn created many companies and new products for the motocross industry. Many new companies were launched from the promotional value of these projects.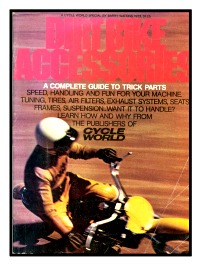 In 1972, I approached Joe Parkhurst of Cycle World Magazine about doing a magazine devoted solely to trick parts for dirt bikes. He loved the idea and five weeks later I gave him the manuscript and photos for a 124 page "One-Shot" named, "Dirt Bike Accessories, A Complete Guide to Trick Parts". The funds from the publication gave me enough money to put a down payment on a nice new tract home in Orange County, which my son lives in today.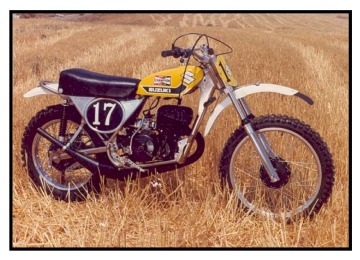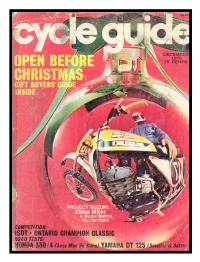 In 1973, I was intrigued by Roger DeCoster's World Champion Suzuki 500 cc motor cross bike. I did quite a bit of research and found that Eric Cheney of Great Britain had designed the chassis and much of the work for Suzuki. Here was another opportunity that I could have some fun, build a great bike and give something to the average guys on the street to build in order to compete with the works teams. Cycle Guide committed to a cover and when we finished, the bike appeared on the cover of the December, 1973 issue as a reflection in a Christmas Ball. Champion Spark Plugs decal on the cover helped pay for the cost of the entire project.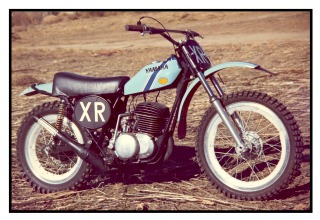 The Champion XR 250 was a Yamaha based project built in 1973 for Dirt Rider Magazine. The frame was from Champion / Doug Schwerma and was a beautiful handling machine. In between this project were several other of secondary importance.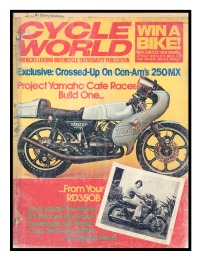 The last cover project was built in 1974 and was my only street project at that time. Cycle World asked if I would build them a "Café Racer" for a cover project and we built a really quick little bike. Randy Riggs, editor, rode the bike through Ortega Highway and said it was extremely fast. The project appeared on the cover of the November, 1974 issue. This was my last motorcycle project as I did not have any other motorcycles that I thought I could be a technology leader in. My focus began to wander toward automobiles.